Space Books Reading List
Read for the stars with these great books about space!
Space Picture Books:
Papa Put a Man on the Moon by Kristy Dempsey
Marthanne's whole community is excited about the moon landing, and Marthanne is especially proud because her father helped create the fabric for the astronauts' spacesuits.

Penguinat by Marcie Colleen
Orville is a little penguin who lives in a zoo and dreams of big adventures, like going to the Moon; the other animals are skeptical, but Orville is determined, so he builds a spaceship and sets out all by himself--and discovers that real adventures are best when they are shared with friends.
Curious George Discovers Space by H.A. Rey
Come along as George blasts off into space, on a mission to learn all about space travel and the solar system. This adventure is packed to the brim with additional science facts, real photos, experiments, activities, and more
The Way Back Home by Oliver Jeffers
Stranded on the moon after his extraordinary airplane takes him into outer space, a boy meets a marooned young Martian with a broken spacecraft, and the two new friends work together to return to their respective homes.
Sheep Blast Off by Nancy Shaw
Upon finding a spaceship, sheep climb aboard and bumble around until they blast off into orbit.
Planet Kindergarten: 100 Days in Orbit
A young child imagines kindergarten as a mission in space, with his fellow kindernauts, and this is their 100th day.
Mae Among the Stars
When young Mae Jemison is asked by her teacher what she wants to be when she grows up, African American Mae tells her mostly white classmates that she wants to be an astronaut, a dream that her parents wholeheartedly support.
Where's the Astronaut?
Smiling space-themed friends hide behind bright felt flaps and a mirror at the end reveals the reader.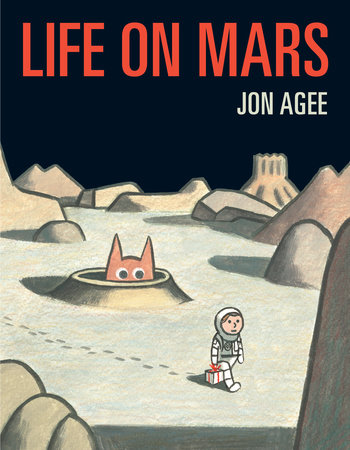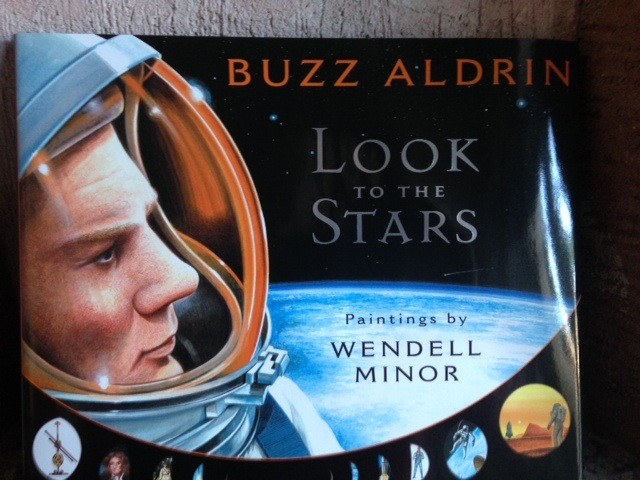 Life on Mars
A young astronaut is trying to find life on Mars, but he's made a very big oversight.
The Magic School Bus Out of this World
A huge space rock is heading toward Walker Elementary. There's only one way Ms. Frizzle and the gang can stop it, and that's with a field trip--to outer space!
Mousetronaut: Based on a (Partially) True Story
A small, but plucky, mouse named Mike is sure that he can help the Space Shuttle astronauts, and ends up saving the whole mission.
Look to the Stars
Buzz Aldrin takes readers on a journey through the history of space exploration.
ABCs of Space
This book introduces a topic of astronomy for every letter of the alphabet, from asteroids to zenith.
Space Beginning Readers:
Lego Women of Nasa Space Heroes
Profiles four women who have been integral to NASA's space program, helping to develop the Hubble Space Telescope, create computer code to send spacecraft to the moon, and work onboard the space shuttle.

There's No Place Like Space
Dr. Seuss's Cat in the Hat introduces Sally and Dick to the planets, stars, and moons in our universe.
About Space: We Both Read
This revised edition provides exciting new information and spectacular photographs of planets, moons, stars and galaxies...

Planets: Nat Geo Readers
Provides information about the planets, the sun, and moons.
Rockets and Spaceships: DK Readers
Describes how space shuttles, probes, satellites, the Hubble space telescope, and space stations allow astronauts to explore the moon and planets.

The Magic School Bus Takes a Moonwalk
Ms. Frizzle's class is taking a special nighttime hayride to learn about the moon. But when a cloudy sky spoils the trip, everyone piles onto the Magic School Bus for a better view. You can bet this adventure will be anything but ordinary!
Minnie and Moo and the Potato from Planet X
In their eighth outrageously funny adventure, Minnie and Moo meet a potato-shaped alien named Spud when he crash lands on their farm. Illustrations.
Star Wars: The Clone Wars Jedi Heroes
DK Readers team up with Star Wars and Star Wars: The Clone Wars yet again to get Padawans excited to read! Perfect for reluctant readers as well as devoted Star Wars and Star Wars: The Clone Wars fans.

The Stellar Story of Space Travel
Blast off into a galaxy full of fun with this fact-tastic nonfiction Level 3 Ready-to-Read, part of a series about the history of fun stuff!

Space Short Chapters:
Space Taxi: Archie Takes Flight
On "Take Your Kid to Work Day, " eight-year-old Archie discovers that his father drives a space taxi that shuttles aliens from one area of the universe to another.
Alien in My Pocket: Blast Off!
Fourth-grader Zack McGee's life is turned upside-down when Amp, a tiny alien, crash-lands in his bedroom, then causes trouble at school while trying to get parts to repair his spaceship.
Luciana: Girl of the Year 2018
Luciana is going to space camp, but when picked as the leader for her team, she steers them into trouble. After that her team doesn't trust her, or like her that much either. It's great to be good at science, but she needs more to make it to Mars. Luci needs to become someone her team can depend on, no matter what.
Lily & Kosmo in Outer Space
Lily Lupino yearns to be an astronaut, so when Kosmo Kidd crash-lands in her Brooklyn kitchen in 1949, she will do almost anything to prove herself to him and his crew.

Galaxy Zack: Hello, Nebulon!
Moving from Earth to the futuristic planet Nebulon in 2120, eight-year-old Zack is nervous about starting school and meeting people.
Space JUV & YA Graphic Novels:
Catstronauts: Mission Moon
Alerted to a global energy crisis, the President consults with the World's Best Scientist, who suggests sending a special group of astronauts to turn the Moon into a solar power plant.
Zita the Space Girl
When young Zita discovers a device that opens a portal to another place, and her best friend is abducted, she is compelled to set out on a strange journey from star to star in order to get back home.
Lowriders in Space
Lupe, Flapjack, Elirio customize their car into a low rider for the Universal Car Competition to win the cash prize that will enable them to buy their own garage.
Leo Geo and the Cosmic Crisis
Armed with his knowledge of science, Leo Geo becomes an astronaut and heads into space, where he encounters pirates and tries to stop a comet that's headed toward his brother's science laboratory on Earth.
Castle in the Stars: The Space Race
A year after his mother disappeared in her hot air balloon, Seraphin and his father receive a clue that sends them to a Bavarian castle where lurks a force that would stop at nothing to conquer the stars.
TinTin: Explorers on the Moon
Tintin and his friends are involved in the first manned flight to the moon which proves perilous.
Laika
This is the journey of Laika, the abandoned puppy destined to become Earth's first space traveler. With the blending of fact and fiction, this story intertwines three compelling lives. Along with Laika, there is Korolev, a driven engineer at the top of the Soviet space program and Yelena, the lab technician responsible for Laika's health and life.

Space Kids & Teen NonFiction:
First Space Encyclopedia
A reference guide to our galaxy and beyond.
Exploring Space from Galileo to the Mars Rover and Beyond

STEAM Jobs in Space Exploration
Space Explorers: Secrets of the Universe